Revealing Italy: 15 Unforgettable Destinations for the Ultimate Adventure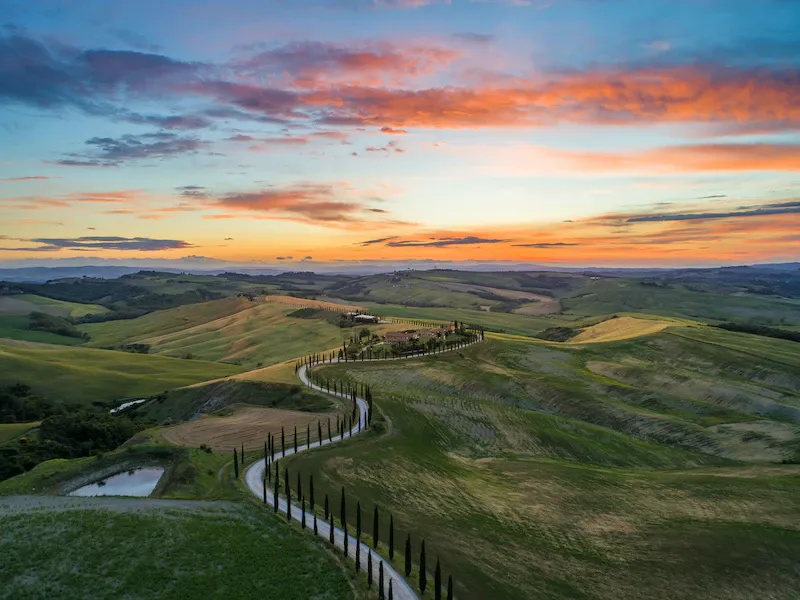 Discover Italy: Top 15 Must-Visit Destinations
Hi there, fellow travelers! It's Jennie from Tour-Agency.com, and I'm here to share with you the top 10 places you need to visit in Italy. This incredible country, known for its romance, food, and breathtaking architecture, has a little something for everyone. Let's dive into the ultimate Italy travel bucket list!
1. Rome: The Eternal City
Rome is a must-visit destination for any traveler. As the capital city, it's home to world-famous landmarks such as the Colosseum, the Sistine Chapel, and the Vatican. With a rich history spanning 28 centuries, you'll never run out of things to explore. Don't forget to wander through the charming neighborhoods, visit world-class museums, and, of course, indulge in some delicious pizza.
2. Tuscany: Rolling Hills and Charming Towns
Tuscany is synonymous with picturesque hillsides, stunning vineyards, and quaint towns. Spend at least a week exploring gems like Siena, a popular choice known for its cobblestone streets and small-town charm.
3. Lake Como: Romance in the Alps
Nestled at the foot of the Alps, Lake Como is one of Italy's most romantic destinations. Cruise along the lake, visit elegant villas, and explore the town of Verena—all while taking in the breathtaking landscape.
4. Florence: The Cradle of Renaissance
Florence, the birthplace of the Renaissance, is a must-visit for art enthusiasts. Be sure to explore the city's art museums, shops, and indulge in some gelato while soaking in the splendor of this historic city.
5. Milan: A Fashion Capital
For shoppers and fashionistas, Milan is the place to be. This hip city boasts trendy shopping areas and world-class museums, making it an exciting and beautiful destination.
6. Venice: The City of Canals
Venice is a romantic and historic city perfect for couples. Take a gondola tour along the canals and stroll through the cobbled streets. Keep in mind that hotel prices can be steep, so plan a two or three-night stay before moving on.
If you're looking for a destination like Venice without the hefty price tag, consider Verona. This underrated city offers a local, authentic feel and is just as stunning as its more famous counterparts.
8. Cinque Terre: Colorful Coastal Beauty
Cinque Terre, one of the most scenic spots in Italy, is known for its vibrant towns along the Mediterranean Sea. Fall in love with the views and embark on a hike to fully appreciate the area's beauty.
9. Naples: A Food Lover's Paradise
Foodies, Naples is calling your name. Savor the pizza, sample the wine, explore the coffee culture, and indulge in every Italian dish you can find. Don't forget to visit the historic sites that make this city so special.
10. Sicily: The Mediterranean's Largest Island
Last but not least, Sicily is a must-visit destination. Home to Mount Etna, the world's second most active volcano, this island boasts ancient ruins, stunning castles, and gorgeous beaches.
So there you have it—our top 10 places to visit in Italy! Let us know which destinations you're looking forward to exploring, and happy travels!
W
11. Amalfi Coast: A Picturesque Seaside Retreat
The Amalfi Coast, a UNESCO World Heritage Site, is famous for its dramatic cliffs, turquoise waters, and charming coastal towns. Drive along the winding roads, visit vibrant villages like Positano and Ravello, and bask in the warm Mediterranean sun on pristine beaches.
12. Bologna: Italy's Culinary Heart
Bologna, the capital of the Emilia-Romagna region, is often referred to as the culinary heart of Italy. With a rich food scene featuring local favorites like tortellini, tagliatelle al ragù, and mortadella, your taste buds will be in for a treat. The city is also home to the oldest university in Europe, giving it a lively and youthful atmosphere.
13. Puglia: The Heel of Italy's Boot
Puglia, located in the heel of Italy's boot, is known for its whitewashed hill towns, centuries-old farmland, and a coastline dotted with stunning beaches. Explore cities like Lecce, known as the "Florence of the South," and the unique town of Alberobello, famous for its Trulli houses.
14. The Dolomites: A Hiker's Paradise
The Dolomites, a spectacular mountain range in northern Italy, are a haven for outdoor enthusiasts. With countless hiking trails, rock climbing opportunities, and breathtaking vistas, this UNESCO World Heritage Site is an adventure lover's dream come true.
15. Sardinia: Crystal Clear Waters and Ancient History
Sardinia, Italy's second-largest island, is famous for its crystal-clear waters, white sandy beaches, and rich history. Discover the ancient Nuragic civilization, which dates back to the Bronze Age, and indulge in local specialties like pecorino cheese and Cannonau wine.
No matter which of these Italian gems you choose to explore, you're guaranteed an unforgettable experience. So pack your bags, brush up on your Italian, and get ready for the trip of a lifetime. Buon viaggio!
Conclusion
Italy truly has something for everyone. From the bustling streets of Rome and the serene beauty of the Amalfi Coast to the culinary delights of Bologna and the breathtaking Dolomites, there is no shortage of awe-inspiring destinations to visit in this incredible country. Each region offers its own unique charm and experiences, ensuring that every traveler can find their own personal slice of Italian paradise.
As you plan your dream trip to Italy, consider the diverse array of attractions, landscapes, and cultural experiences that await you. Whether you're an art enthusiast, a history buff, a food lover, or an adventure seeker, you'll be sure to find a destination that speaks to your heart and leaves you with unforgettable memories.
Take the time to immerse yourself in the local culture, indulge in mouthwatering Italian cuisine, and hug the warm and welcoming spirit of the Italian people. This beautiful country is sure to captivate you, and you'll likely find yourself yearning to return and explore even more of the hidden gems that await in the land of la dolce vita.
So go ahead and start planning your Italian adventure, and remember to savor every moment of your journey through this enchanting country. Buon viaggio, dear travelers!
1. What is the best time of year to visit Italy?
2. How do I plan an efficient itinerary for my trip to Italy?
3. What are the must-try Italian dishes during my trip?
4. Can I get around Italy using public transportation?
5. What are some essential Italian phrases to learn before traveling?